Welcome to the HLSA Recent Graduates Network
Upcoming Events
12:00AM Thu 3 Dec 2020 - 11:00AM Wed 16 Dec 2020 ( Timezone: Eastern )

RGN is excited to launch its first snack box exchange in the spirit of the holiday season!
Virtual Events
Social distancing requirements have introduced an opportunity and need to convene virtually. Check out the

Virtual Resource Library

for

guidance on hosting digital events.
HarvardKey

HarvardKey is a secure login and password to streamline your access to several online alumni tools and benefits.
Visit

key.harvard.edu

to claim your HarvardKey today.

Need personalized help? Contact the HLS HarvardKey support line at +1 617-495-5631 or

alumrec@law.harvard.edu

.
Amicus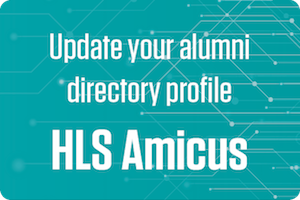 HLS Amicus is a community building tool, featuring an alumni directory, with advanced search and messaging capabilities.
Alumni Feedback
We want to hear from you...
Have a question about an upcoming event or an idea for an event you'd like us to put on? Interested in getting involved in the HLSA Recent Graduates Network? Have any other feedback for us? Contact us at info@recentgraduatesnetwork.hlsa.org.