Welcome to the HLSA Recent Graduates Network
Upcoming Events
Upcoming Events Below
FEATURED

12:00AM Tue 31 Jan 2023 - 12:00AM Tue 28 Feb 2023, Eastern timezone

RGN's Valentine's postcard exchange in the spirit of Valentine's Day!

3 days away
1:00PM - 2:15PM Mon 30 Jan 2023, Eastern timezone

Join the The Harvard Law School Association of Washington, DC and the HLSA Recent Graduates Network to hear HLS alumni discuss a topic near and dear to their hearts–Mentorship.
HarvardKey

HarvardKey is a secure login and password to streamline your access to several online alumni tools and benefits.
Visit

key.harvard.edu

to claim your HarvardKey today.

Need personalized help? Contact the HLS HarvardKey support line at +1 617-495-5631 or

alumrec@law.harvard.edu

.
Amicus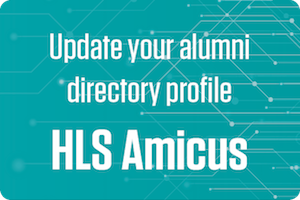 HLS Amicus is a community building tool, featuring an alumni directory, with advanced search and messaging capabilities.
Alumni Feedback
We want to hear from you...
Have a question about an upcoming event or an idea for an event you'd like us to put on? Interested in getting involved in the HLSA Recent Graduates Network? Have any other feedback for us? Contact us at info@recentgraduatesnetwork.hlsa.org.