Welcome to the HLSA Recent Graduates Network
Upcoming Events
3 days away
4:00PM - 5:00PM Wed 23 Sep 2020 ( Timezone: Eastern )

Posted on behalf of the HLSA of Massachusetts. Join William F. Lee, lead counsel for Harvard and Senior Fellow of the Harvard Corporation and counsel Felicia Ellsworth for a discussion on the Harvard Admissions Case. Advance registration required.
Virtual Events
Social distancing requirements have introduced an opportunity and need to convene virtually. Check out the

Virtual Resource Library

for

guidance on hosting digital events.

Fall 2020 Update: Harvard Law School announced that the Fall 2020 semester will take place online on June 3, 2020. For more information about this announcement, please see

Dean John F. Manning's letter to students

.
HarvardKey

HarvardKey is a secure login and password to streamline your access to several online alumni tools and benefits.
Visit

key.harvard.edu

to claim your HarvardKey today.

Need personalized help? Contact the HLS HarvardKey support line at +1 617-495-5631 or

alumrec@law.harvard.edu

.
Amicus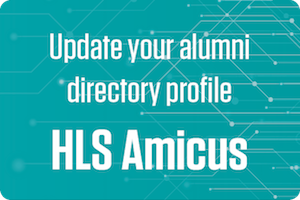 HLS Amicus is a community building tool, featuring an alumni directory, with advanced search and messaging capabilities.
Alumni Feedback
We want to hear from you...
Have a question about an upcoming event or an idea for an event you'd like us to put on? Interested in getting involved in the HLSA Recent Graduates Network? Have any other feedback for us? Contact us at info@recentgraduatesnetwork.hlsa.org.